SHIPPING: NO SEA TOO ROUGH FOR ISN
Shipping has always been very important to the Netherlands. Previously, the Dutch sailed the whole world to engage in trade. Even now, Dutch shipping features strongly in national and international waters. It is with good reason that the shipbuilding sector in our country is focused on innovation using revolutionary technology and new materials. The same applies to marine propulsion (how a vessel moves forward) and communication techniques within the shipbuilding industry. Cost efficiency and environmentally friendly solutions currently represent the biggest challenges to the shipbuilding industry.
EXPERTISE IN FIBREGLASS
ISN contributes to the maritime sector. Not because we are armchair seafarers, but because we happen to have expertise in fibreglass. Particularly in terms of reducing weight – and thus fuel consumption – fibreglass offers the solution in terms of equipping modern fleets. From barges to tankers and cruise ships: we have a tailor-made solution for every application.
TAILOR-MADE SOLUTIONS
In recent years, ISN has demonstrated that glass fibre cables offer cost savings and flexibility in addition to greater options for users. Our clients are delighted with our tailor-made solutions, such as glass fibre cables equipped with connectors, especially developed for data terminals and control panels.
ONE STOP SHOPPING
We also have the necessary experience in terms of logistics and we deliver solutions both nationally and on location internationally. We use specialist packaging that guarantees intact delivery of our materials anywhere in the world.
ISN collaborates with partners that have the same mind-set and who enjoy going the extra mile, just as we do. We have been working with regular partners for years, which deliver active components so that we are able to offer solutions in this respect too. In short: no sea is too rough for ISN!

For more information about use of fibreglass in the shipping industry, please contact us.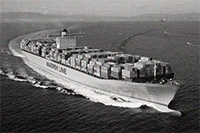 A reliable company that thinks outside the box and demonstrates exceptional flexibility.
Sometimes we wonder; why didn't we come up with that solution?!